As you all know I love all things Lancashire, especially if it involves food, so Lancashire Food was delighted to receive an invitation to a born and bred Lancashire company's 80th birthday celebration. Now I know you are all thinking whats glamorous about vinegar ? well vinegar is a very versatile thing and is a very ancient product. The other great thing about Ellsey's vinegar is that this particular vinegar is used in loads of amazing local products too, so that they are true Lancashire produce.
A True Lancashire Lunch
Ellseys
is based in Wigan and is still a family owned company, started by a Mr Walter Ellsey initially to brew malt vinegar in 1932 , the company now focuses on supplying a wide variety of vinegars to wholesalers and producers around the world.
I have only recently discovered that my late maternal Grand-dads favourite pickles aand picalilli are produced by Ellsey's oldest customer, what's funny is that the company is Bartons pickles from St Helens (where my Grand-dad was from) yet the vinegar that goes into all their products is from Wigan, the rivalry between Wigan and St Helens is legendary ! mainly due to the local rugby teams I think but may be just a little from the pickles too.
In celebration of their birthday, Ellsey's had contacted a local artisan brewery to brew up a celebration beer, Prospect brewery ( as featured in several tv shows with Oz Clark, et al ) based the beer on their already famous "big john" dark stout , the addition of vinegar has lightened the brew and provides a fruity end to the glass.
The party at the brewery also featured nibbles from some great local producers, many who use Ellseys vinegar in their products, and vinegar shrub cocktails (alcoholic and non alcoholic) were also served. Lancashire Food enjoyed having some very interesting food and also vinegar chats with some of the staff from Ellseys and was excited to hear their ideas for the future and their passion for all things vinegar.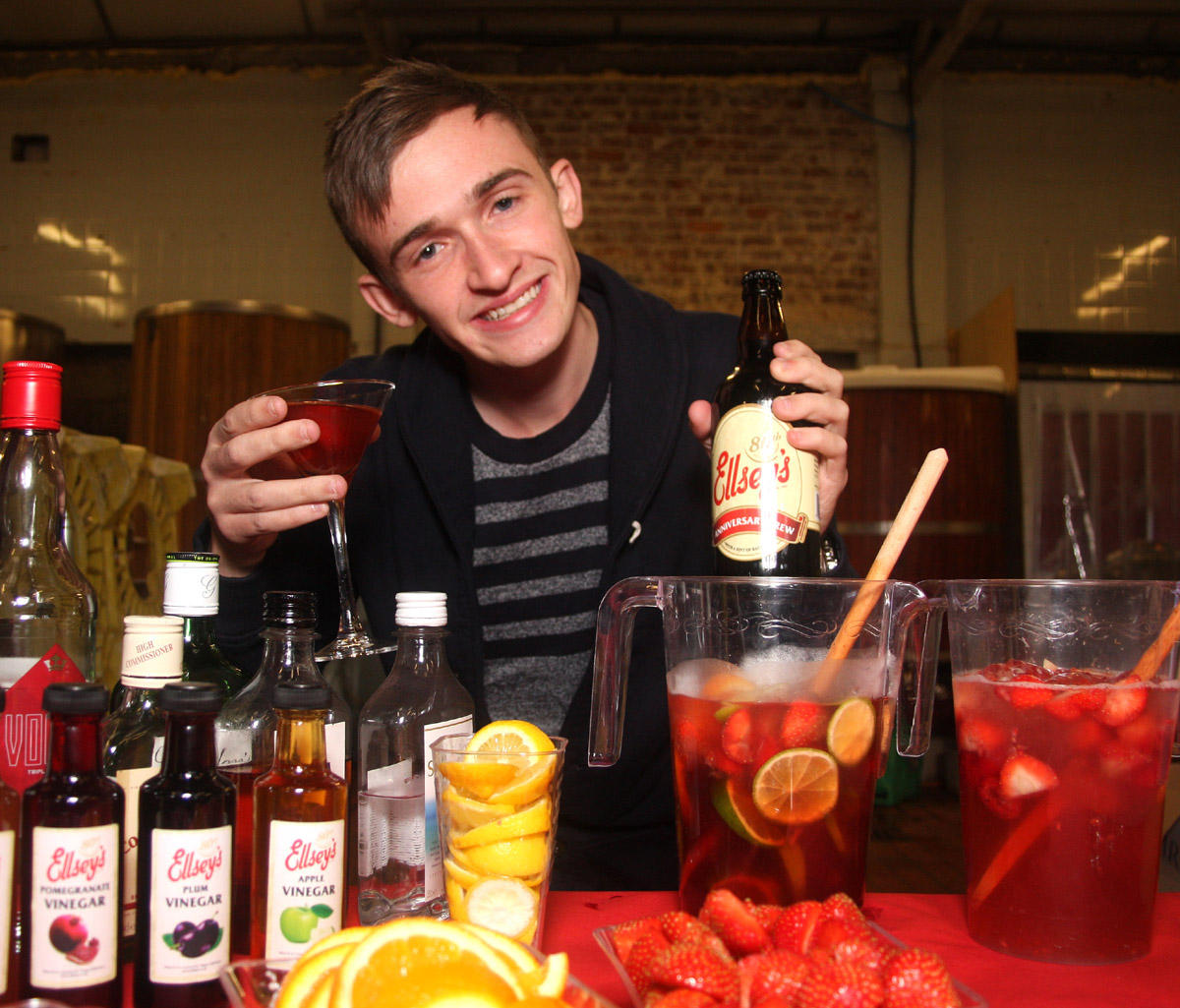 We also met Luke Marsden ( ex big brother housemate and radio presenter) and proud Wiganer at the time I didn't know who he was, just that he was on Rock Fm (local radio station) , we had some great discussions about food, vinegar and cake. We also managed to get him addicted to Lancashire cheese and Lancashire crisps in the process whilst sampling the cocktails.
In celebration of Ellsey's birthday I will be re-working my vinegar cake posting and having a go at vinegar pie too ! So watch out for these forthcoming posts.
Our goodie bag featured samples of
Ellseys fruit vinegars in various flavours
and Del Monte too.
The amazing food photography on this post is by the very talented Mr Lancashire Food aka as Synergy Monochrome , he has also posted on his blog of what he has been upto with regard to post