This weekend we have finally pulled up the last courgette plant of the season, as part of the tidy up a couple of large courgettes were discovered in the undergrowth. So this recipe makes the best of the last of this seasonal bounty, with its roots fairly in the Mediterranean this dish gives a heavy nod towards Lancashire too as its features lots of local produce.
I love dishes like this where everything is placed in one pot and the oven does all the work, if you haven't got some homemade tomato sauce to hand then a jar of quality passata works great. I also raided the herb garden for my herbs, selecting sage, rosemary and thyme and a little oregano to be added to the dish.
What you need
Couple of courgettes, washed and sliced length ways into strips
1 large red onion - peeled and sliced into finely fine halves (local grown)
1 jar passata or similar quantity of homemade tomato sauce (homemade)
Selection of fresh herbs - rustically chopped (homegrown)
Salt and pepper
Local Cheddar cheese - coarsely grated (local)
Yogurt - thick Greek style (local) about 200 ml
1 egg - free range (home laid)
Large cast iron skillet / ovenproof dish
Oil (olive or rapeseed)
What you do
Preheat the oven to 200c (fan)/ 220c (non fan)
Add a little oil to pan and gently saute to courgette strips and onions.
Now layer up with tomato sauce on the base, courgettes and onions, herbs, and then repeat.
Mix the yogurt and egg together, top of the dish and then finish with grated cheese
Strew with more herbs
Bake for 20 - 30 minutes until golden and bubbling and the courgettes are meltingly soft
Serve with crusty bread for mopping up all the lovely juices
We are also linking up to
Extra Veg hosted this month by A Mummy too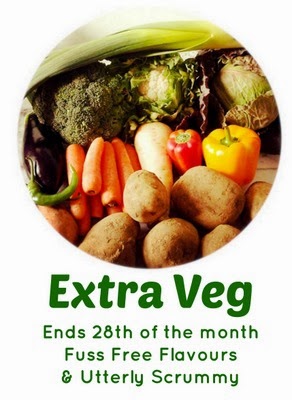 And finally
Simple and in Season created by Reb Behan
and hosted this month by her too.