A perfect dish for a Sunday tea or a a busy weeknight when you can't be bothered cooking, it has the perfect combination of roast crispy potatoes and cottage pie filling and the good news is that the vegetables are in the pie.
The topping is inspired by Casa pie from Vanessa Kimbell's "Prepped" book and is something that I use a lot instead of mash to top fish pie and also chilli and bolognaise. Its an easy no fuss dish which freezes beautifully so you can batch make and the pie filling can also be used in pastry pies as well.
Its a pretty frugal dish too as you can use frozen vegetables in the meat filling and the herbs are from the garden plus its also gluten free as well as I have used cornflour to thicken the gravy. Its a great way of adding more vegetables to your diet without really noticing and also for upping the fibre content of cottage pie as the crushed potatoes are still in their skins.
What you need
Small washed new potatoes boiled until just cooked - halved if large
Rapeseed oil
Fresh rosemary- leaves removed and chopped finely
Minced steak
White onion - finely chopped into half moons
Beef stock ( I use essential cuisine)
Cornflour
Salt and pepper
Fresh thyme - leaves finely chopped
Parsley - finely chopped
Carrots - peeled and diced, or you could use frozen
Peas - I used a good handful of frozen petit pois
Tomato ketchup (ensure gluten free if necessary)
What you do
Firstly heat a little oil in a large frying pan and saute the sliced onions until translucent
Now add the mince to the pan and fry off golden and well coloured
Now add the thyme, parsley and a tbsp of tomato sauce to the pan along with enough beef stock to cover the meat, stir and then add the diced carrot to the pan.
Simmer for 20 minutes until the meat is cooked and the carrot tender through, now using a little water to slake the cornflour and use to thicken the gravy.
Add the frozen peas to the meat mixture and place in ovenproof dishes
Top the pie mixture with the small potatoes crushing them slightly using your thumbs , sprinkle with the chopped rosemary and drizzle with a little rapeseed oil
Bake in the oven at 180c for 40 minutes until the top is golden and crispy and the filling bubbling.
Serve immediately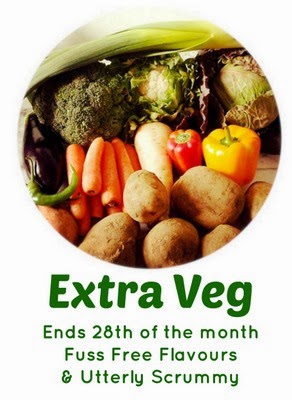 We are also linking up to Credit Crunch Munch, created by
Fab Food for all
and
Fuss Free Flavours
hosted this month over at
Maison Cupcake
.