We are currently dealing with a surfeit of eggs in our household (our chickens are in full production ! not that I'm complaining) so any recipe that uses a good quantity of eggs is welcome at the moment. I love Pavlova and still remember the first time I experienced this blousey confection at a friends birthday party when I was about 10 years old, I was blown away with the crunchy crumbly yet marshmallowy texture of the meringue offset by the creamy fruity centre.
This Pavlova uses local strawberries, some homemade homegrown rhubarb anise compote (see earlier post
here
) to contrast with a cream fraiche and yogurt centre which was slightly sweetened with a little icing sugar.
I love the rustic look of this dish, garnished with just fresh fruit and lemon balm leaves and it tastes amazing, I can't for the life of me recall why I don't make this more often........, I'm off to the kitchen for another slice.
What you need
4 egg whites
220g Caster Sugar
Lemon juice - generous splash (this is to make the meringue marshmallowy in the middle)
1 pot of Creme fraiche
Half a large pot of Greek yogurt
Icing sugar, 1 tbsp
Fresh fruit of your choice, I used local strawberries and rhubarb compote/jam
A few lemon balm or mint leaves
Icing sugar
Pre heat the oven to 140c / 275F, gas mark 1
Prepare your baking tray with either using a silicone sheet or a large piece of baking parchment.
Whisk the egg whites in a scrupulously clean mixer bowl until stiff, add the lemon juice and caster sugar whilst still whisking in roughly tablespoon amounts until all incorporated and the meringue is all glossy and shiny
Scoop the meringue onto the prepared baking tray making a rough circle about 8 inches in diameter, make the sides higher the middle so it can hold the filling.
Bake in the oven for 1 1/2 hours until very lightly golden and firm to touch,switch the oven off and allow to cool fully in the oven with the door slightly wedged open with a tea towel
Once fully cool remove from the oven.
To make the filling mix the creme fraiche and Greek yogurt with a little icing sugar, spoon into the centre of the Pavlova
Drizzle with the rhubarb compote and top with fresh fruit
Dust with icing sugar and dot with artistically with a few lemon balm or mint leaves
I am also going to use this post as an entry in this months cooking with herbs challenge as the recipe features the beautiful lemon sherbety leaves of lemon balm as a garnish. I think the dish would also work beautifully with elderflower scented strawberry compote. The challenge this month is hosted right here on
Lancashire Food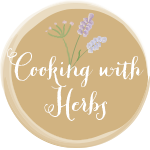 I am also linking up to Four Seasons Food Summer who's theme this month is red, well this is strawberry red. Created by
Eat your Veg
and
Delicieux
, its being hosted our on the
Spicy Pear
this month
Here is an instagram image of the partially demolished pavlova ! , very rustic but very very delicious.....