Over the Easter weekend we had friends visiting and for a while now I had been wanting to use my Lekue Swiss roll mold , so I thought I would give a meringue roulade a go. I also had ulterior motives to use a excess of homelaid eggs and meringue recipes uses loads of eggs don't they (well whites anyway).
I decided to plump for making a plain cream roulade which could then be served with anything from fresh fruit, fruit couli (using frozen homegrown fruit) or chocolate or caramel sauce. Choices choices......
I am mighty pleased with the resultant soft billowy marshmallowy meringue and the performance of the Lekue mold, the only downside being that the mold is rather flexible so it tooks some nifty handling of the oven shelf to turn the meringue out of the mold onto the cooling rack.
To ensure a smooth glossy well airated meringue ensure your mixing bowl is clean and free from grease, as a precaution I always wipe round with some lemon juice on some kitchen paper.
What you need
6 egg whites
275g caster sugar
50g flaked almonds
To fill the roulade I used whipped double cream sweetened with a good slug of vanilla paste, you could use whipping cream, marscapone or yogurt or even a sweetened cream cheese mixture. For a roulade this size I used a 300ml pot.
Preheat your oven to 180c fan
Place the egg whites in the bowl of your mixer (I used my trusty Kitchenaid) and mix until very stiff and well airated
Add the caster sugar a little at a time, whislt continuing to mix until all added and the meringue is very stiff and glossy
Scoop into your lekue mold (or if you haven't got one then a lined swiss roll tin) and smooth level
Sprinkle with the flaked almonds
Place in the pre heated oven and bake for 10 minutes until golden
Turn the oven down to 140c and bake for a further 15 minutes or so until crispy to touch
Take the meringue out of the over an tip out onto a baking paper covered wire rack to cool for 10 minutes or so
Then fill with your chosen filling and roll using the baking paper to assist your roll.
Remove the ends (chefs treats) and serve decorated with fruit or fruit couli or sauce.
The roulade freezes well when filled with cream and rolled.
For the couli I used some of the last frozen homegrown blackcurrant I had in the freezer , sweetened with caster sugar (1/2 the weight of the blackcurrants) scented with a generous spring of fresh peppermint from the garden.
I am entering this post in
Cooking with herbs
challenge as I used this months featured herb - mint is in my recipe, the challenge was created by Karen over at Lavender and Lovage and she is hosting this month too.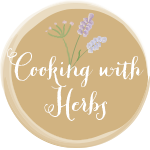 I was kindly provided the roulade mold by
Lekue
for testing and review purposes.